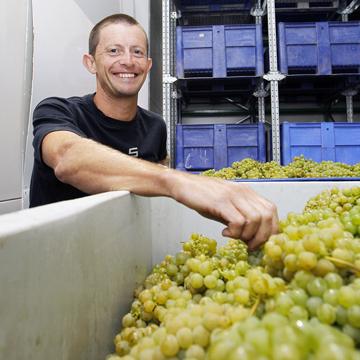 Very good. The growing season started out neither late nor early, but several weeks after budburst considerable alarm was caused due to plunging temperatures and the threat of frost. Thankfully our Waihopai Valley vines were untouched, although our new vineyard at the Eastern end of Rapaura Road, named Area "H171" referring to its location, suffered some frosted shoots in the low points of the vineyard.
Spring and Summer were very pleasant in Marlborough, with very typical conditions of clear days and abundant sunshine. Rainfall was moderate and well spaced and disease pressure low. Leading into harvest, rain was noticeable in its absence, and a good portion of New Zealand was officially in a drought. Perfect for grapes, and even our un-irrigated vineyard H171 was quite at home in the conditions with vines still able to access deep soil water.
Harvest began on March 13, and with continued sunshine and warm conditions, a large proportion of the total harvest began to ripen at the same time. A single day in late March saw us harvesting Chardonnay, Pinot Noir, Gewurztraminer, Riesling, and Sauvignon Blanc. "Making hay while the sun shines" was the order of the day, and the harvest was nonstop from before Easter into the second week of April, by which stage almost all of our grapes were safely picked.
Rainfall in mid April was welcomed by all, and allowed us to leave out some blocks for late-harvest styles. Fortuitously the blocks left were well affected by "Noble Rot" and after a period of raisining we picked some outstanding grapes for Pinot Gris and Riesling.
Overall, the level of quality for all the varieties was uniformly high, and with average yields across the board. What more could we ask for?