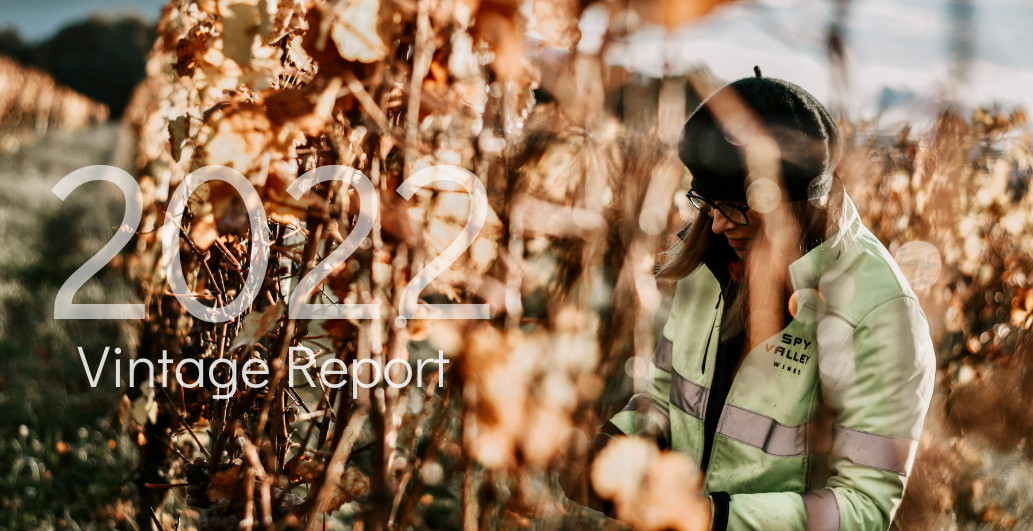 As we say, every harvest tells a story and 2022 has its own. With borders closed and Covid in the region we developed a solid plan for our team heading into harvest. This year, we had a higher percentage of inexperienced staff, but they were young and enthusiastic. We worked around the clock for several weeks, the team rallied and we made it through. 
This was our largest vintage for several years closing out at 2,438 tonnes. Towards the end it became a game of chess, moving juice and new wines around the winery very strategically so that all tanks and barrels were full, and we could fit everything in. We didn't miss a beat and quality was never compromised.
A good flowering period and steady rainfall throughout the season resulted in even crops and healthy canopies to ripen the fruit. Our first grapes were harvested on March 3rd – Sauvignon Blanc for our low alcohol wine and Chardonnay for our sparkling – Echelon Méthode Traditionnelle. Despite having a reduced team due to Covid, more fruit than ever and some rain in-between, the vineyard crew worked tirelessly to bring the grapes in.
The last of the harvest rush was our Pinot Noir and Malbec, which came through the winery on April 11th – 33 days later. This was followed by a welcome lull before we finally pulled in the very last bit – a small parcel of Riesling left on vine for a late harvest hand pick on May 5th 2022. A team effort with the winery team joining the Spy vineyard crew to bring it home.
The Sauvignon Blancs' have now finished fermenting, and are quietly resting in tank and barrel on light yeast lees before we commence blending within the next few weeks, ready for our first bottling run in July. We have a new grower this year – the Sloane family.
The Sloane's vineyard is just up the road from us closer to the 'Spy Base'. Their fruit is a great addition to our Sauvignon Blanc blends – an impeccably run vineyard, the fruit and resulting wine is amazing. We are excited for the future of this fruit within our Sauvignon Blanc blends.
Our Sauvignon Blanc fruit sourced within the Waihopai Valley and the Wairau Valley, provides us with plenty of different flavour profiles for our blends. This year the season has produced wines in the more citrus end of the spectrum, reflecting the weather patterns for the season.
Our Pinot Noir cellar was a very busy place this vintage – every 'open top fermenter' was full, and with 'punch downs' and 'pump overs' taking place twice a day, the team had a strenuous daily work out. We have certainly come out at this end of harvest fitter than ever!
The season allowed the fruit to have a longer 'hang time' so we have a variety of flavour profiles this year, ranging from lighter, fruit driven wines to those with deeper, darker more intense flavours. Lots to play with come blending time hooray!
Now aging in barrel, the Chardonnay from 2022 was harvested just before all Sauvignon Blanc started to roll in. The wine has lovely balance, fruit intensity and acidity giving the wine a line of purity and freshness.
Our aromatic varieties this year are again the stars that we always wish for. Riesling, Gewürztraminer and Pinot Gris - they all have a beautiful purity of fruit and are happily resting in tank and barrel before we commence blending within the next few months.
Our Rosé comes from the Pinot Noir block directly outside Wendy's window at the winery. Each year it showcases the harvest, and the colour can often vary from year to year based on the season. This year the wine has a paler colour compared to the 2021 Rosé.
From a challenging harvest for many reasons, our team is proud of the wines we they have made from 2022 and are excited to start working on the blends, and caring for those wines that remain in barrel and tank until it is their turn to come out and shine.
~Wendy Stuckey, Chief Winemaker // Adam McCone, Viticulturist.
>> Growing degree days 1084 // Average 1221
>> September 2021 - April 2022 rainfall 405mm // Average rainfall 368mm