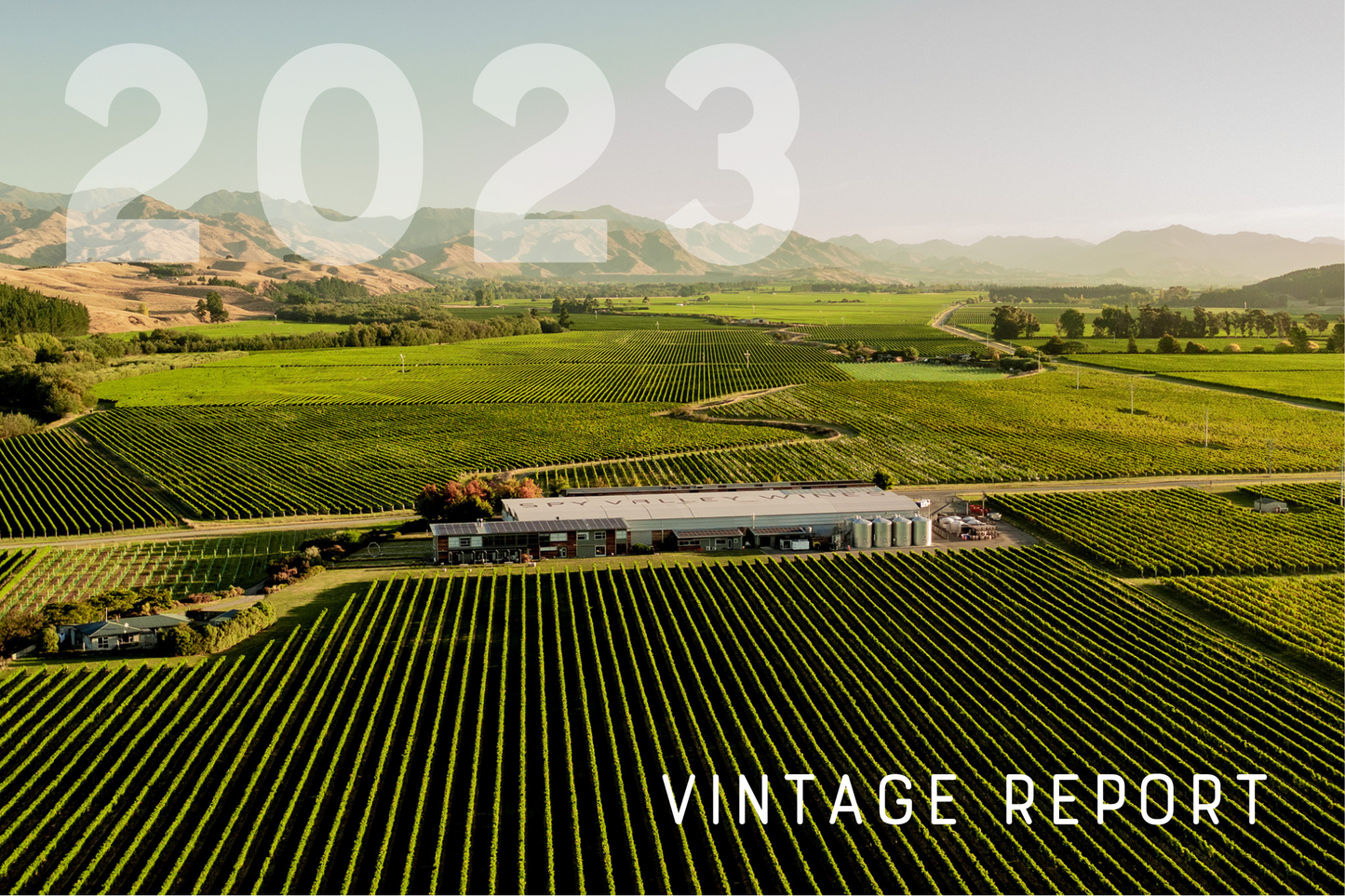 As the dust settles on another incredible vintage, it's time to reflect on the harvest of 2023.

Harvest is early mornings and late nights, sore feet, and tired bodies. But it's also the reward of the past year's efforts in our vineyard, many stunning sunrises, and friendships that will last a lifetime.⁠ We always say that every harvest tells a story, and this year's story was one of success, calm, innovation, and collaboration.
Despite a slightly smaller crop than the previous bumper season, we still managed to produce an impressive amount of perfectly ripened fruit and fill the winery. The season started off strong with an excellent flowering period and consistent rainfall, resulting in even crops and healthy canopies. The first grapes were harvested on March 8th, and we were fortunate to have a full team of staff and no Covid-related pressures, allowing us to conduct a steady, low-stress harvest with all the fruit in beautiful condition.

The final rush of harvest was our Syrah, which was brought in on April 18th, 41 days later. Throughout harvest, there was an incredible sense of calm, nothing like we have ever seen before. This was backed by a team of experienced and enthusiastic staff, and a level of fruit quality that needed little intervention from the winemaking team.
The sense of calm gave us opportunities to run trials in the winery, leading to opportunities for us to improve the quality of our wines and be innovative. Our wines have now all finished fermenting and many of the lots are resting on light yeast lees either in tank or in barrel, slowly maturing ready for the next step in the winemaking process.

The quality of the wines overall this year was excellent. The weather leading up to harvest was slightly cooler than the previous couple of years, back to what we were calling the "old normal". As a result, our start date was later, giving the fruit some more 'hang time' to develop more flavours in all of the varieties and more colour in our Pinot Noir.
We kept a very close eye on the weather forecast in the second half of harvest, often hourly, as there was a continuous threat of wet weather coming our way. We managed to keep ourselves clear of most of the rain events, which is one challenge of harvest that is bound to keep you awake at night!

Our Sauvignon Blancs have a range of flavour profiles that will provide us with many blending options. They are vibrant and fruity and will have a level of acidity that we love in our Sauvignon Blancs, keeping them bright and fresh. Our Chardonnays are all maturing in French oak barrels for the rest of the year, and this year there is a range of flavours from the citrus end of the spectrum through to one batch that is more tropical in style. We're looking forward to seeing how the Chardonnay tastes later in the year. Our floral varieties - Pinot Gris, Gewurztraminer, and Riesling are all looking very promising also!
Our Pinot Noir comes from a number of different blocks across the estate, and we have a number of different clones, providing us with a wide variety of options for our blends. The intensity of colour and fruit intensity this year is exciting, and we're already thinking about the blending possibilities.

Finally, we harvested a bit of extra Pinot Noir for a new wine, Echelon Sparkling Rosé, to be released in 2025 after time on lees in the bottle. Our floral varieties - Pinot Gris, Gewurztraminer, and Riesling are all looking very promising also!

In conclusion, the 2023 vintage was a great success, and we can't wait to share our wines with the world. It was a year of collaboration, innovation, and exceptional quality, and we're already looking forward to next year's harvest and the story it will tell.
>> Growing degree days 1140 // Average 1221
>> September 2022 - April 2023 rainfall 473mm // Average rainfall 368mm 
Visit our Youtube Channel for the 2023 Spy Valley harvest video:
www.youtube.com/@spyvalleywines