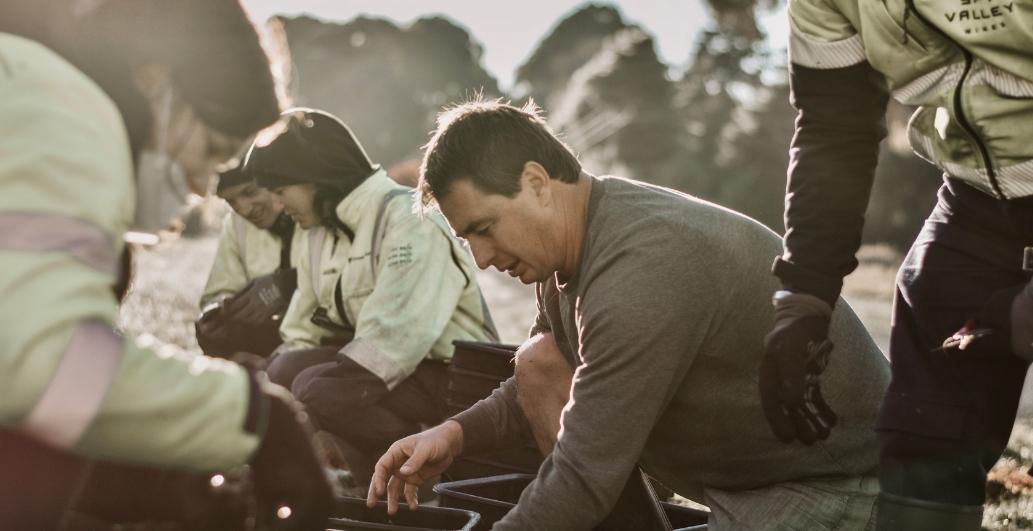 Harvest 2021 officially kicked off on March 1st and finished on April 7th. This vintage we were able to take a very hands-off approach – the only thing we really needed to consider was when to harvest, based on the flavour and acidity balance in the fruit. This vintage was a winemaker's dream and one that may not happen again for years to come.
We had impeccable weather throughout the ripening period, lots of sunshine and cooler nights, little rain which provided us with a very easy paced harvest. This allowed us to do a few more trials in the winery than we would normally do to fine tune some of our processes and improve the quality of our wines.
The last significant spell of rainfall was the week before Christmas with only 32mm between then and the end of harvest. Even so, the vines held on and consequently had no pressure of disease, with all varieties maintaining fantastic ripeness and flavours. A cool spring meant 'Jack Frost' attacked, and a cool flowering to follow resulted in smaller bunches. Fortunately, temperatures in January and February were more moderate than compared to 2020, which alleviated some of the effects of the dry season and led to clean, diseased free fruit.
Our Sauvignon Blanc's have an impressive array of aromas and plenty of concentration which will produce some very enticing wines! Chardonnay and Pinot Noir, while still in barrel and finding their way, have the potential to be wines to watch out for. The Rosé is also showing incredible potential, with beautiful colouring and a light and delicate texture.
We love our aromatics - Gewürtztraminer, Pinot Gris and Riesling, all require their own focus. They have a beautiful array of aromas and intensity that we try to capture every year, this year it's one out of the box!
Overall our 2021 harvest was smooth and successful, with 85mm of rain falling in the week after our last grapes were harvested.
Every harvest has its own story. 2021 will be remembered for the quality of wines across all varietals but also the low volume of fruit. It is a year that can be characterised as 'small but beautiful'.
Growing degree days 1150 // Average 1221