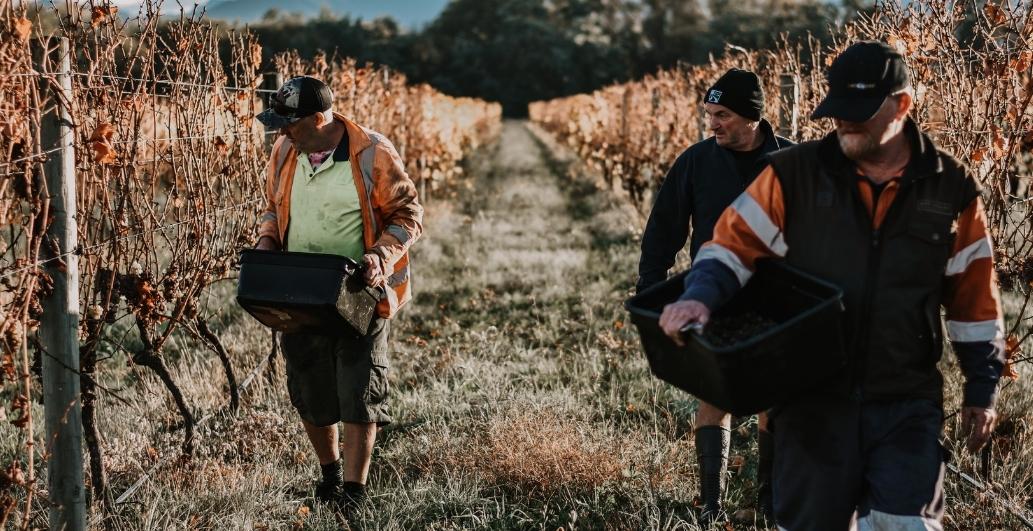 Harvest 2019 will go down as one of the driest and lowest cropping years we have seen. Our Waihopai Valley vineyards had mixed fortunes during flowering which resulted in some varieties having low berry numbers and small crops. Gewurztraminer in particular was extremely low cropping. The payoff to this however is in quality, with excellent dry harvest conditions allowing highly concentrated fruit to be picked in excellent health. Texture and mouthfeel will be a real highlight of the 2019 wines.
The growing season got off to a great start with a relatively wet spring providing good growth and a slightly poor flowering ensuring crop levels would be low for the season. The last significant rain of the season fell on Christmas Day with only 20mm falling from then until the 10th of March. The silver lining of this was lower crops with completely clean fruit.
Sauvignon Blanc from the free draining soils is showing great concentration and texture, with rounded acid and flavours in the mineral and stone fruit spectrum. Our Sauvignon Blanc from blocks on heavier soils provide an excellent counter-balance, with crisp acidity and classic flavours of capsicum, passionfruit and some complex basil / herbal flavours.
Pinot Noir has really shone through with intense colour and flavour, and the wines will reflect the season strongly in this regard. Pinot Noir Rose, likewise has great flavour concentration and with low crops a little more colour than has been seen previously.
Pinot Gris and Chardonnay on our Waihopai blocks are very consistent, and 2019 showed slightly lower crops with Pinot Gris. Concentration of flavour is a strength, and the warm conditions of 2019 allowed picking of Pinot Gris at slightly lower sugar ripeness, thanks to ripe flavours and physiological ripeness. Chardonnay is expressing the riper end of flavours from this sub-region, with more peach, stone fruit and melon, and rich texture.
With harvest completed before April, 2019 this was the earliest finish to picking so far at Spy Valley.