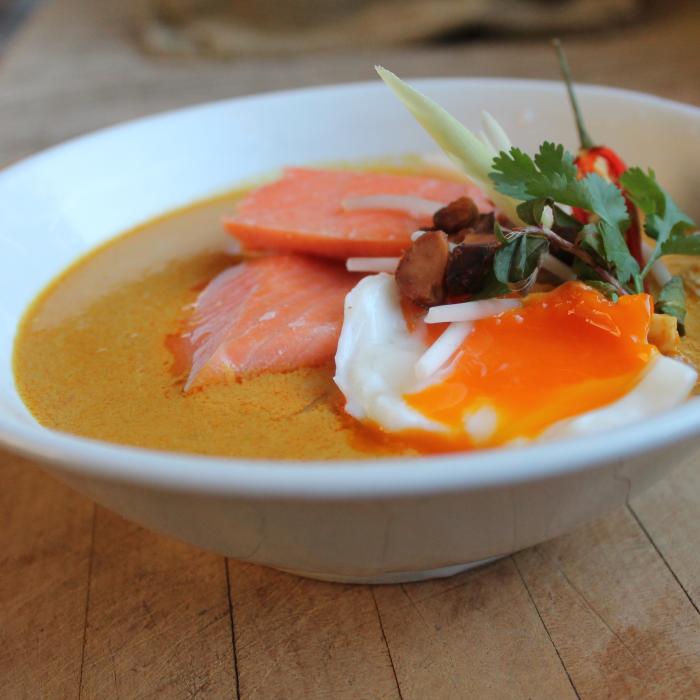 The Spy Valley Pinot Gris is a perfect match to this Mt Cook Alpine Salmon Laksa recipe. The slight residual sugar balances out nicely with the richness of the salmon and a hint of spice. 
Serves 4 people
Ingredients
4 x 170g portions Mt Cook Alpine Salmon
3 cups coconut milk
3 cups fish stock
340g cooked rice flour noodles
2 x 6 minute boiled eggs
110g bean sprouts
8 roasted macadamia nuts
4 sprigs Vietnamese mint
4 sprigs coriander
4 x 50g rehydrated dried bean curd
2 tablespoons cooking oil
Spice Paste
10 Shallots peeled
6 cloves garlic
3 inch cube fresh ginger
4 red chillies
1 tablespoon soaked dried shrimp
3 tablespoons of fish curry powder
Method
• Blend or pound the paste ingredients together.
• Sweat the paste off in the oil.
• Add the coconut milk and stock. Bring to the boil then turn down to simmer.
• Add the noodles and the salmon. Simmer for three minutes.
• Portion into four bowls.
• Cut boiled eggs in half and add to each bowl.
• Garnish with remaining ingredients.
Substitutions: 220g of any store bought laksa paste can be substituted for the paste recipe included.
Fish stock can be substituted with water and adding another tablespoon of soaked dehydrated shrimp to the paste.