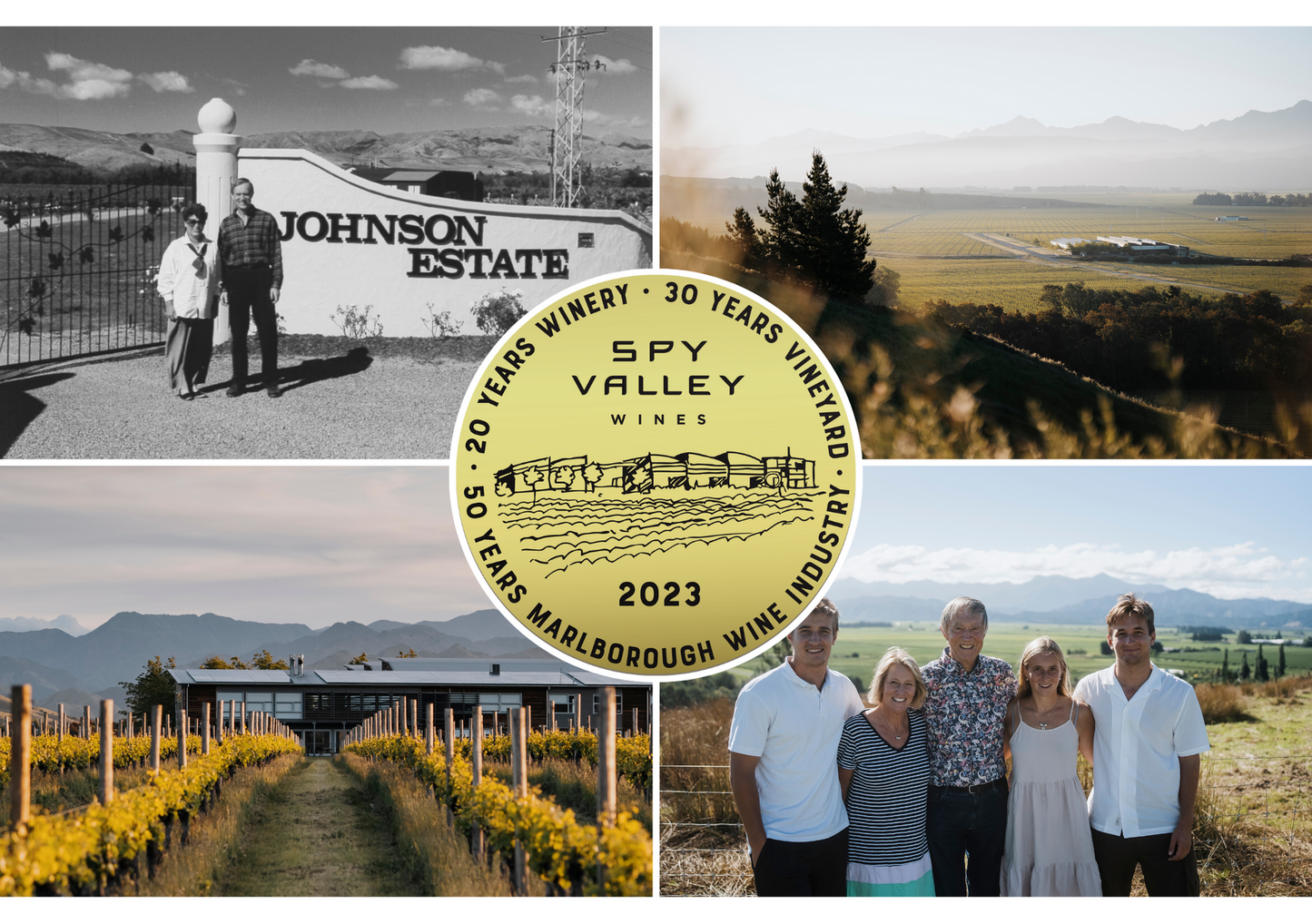 In 2023, Spy Valley celebrates an incredible milestone - 30 years since the Johnson family first planted their vines in the Waihopai Valley and 20 years since they built the winery. But that's not all - this year also marks the 50-year anniversary of Marlborough's wine industry. What a time to be alive!

"As we celebrate 30 years since our first vines were planted, we are proud to have played a role in Marlborough's wine industry's 50-year legacy. It's an honour to be a part of such a rich and vibrant history", says Bryan Johnson, Owner of Spy Valley Wines.

Spy Valley has an impressive timeline, full of milestones and achievements. The legacy began in 1993 when viticulturist Peter Masters established 125 hectares of Johnson Estate Vineyards in the Waihopai Valley on behalf of Bryan and Jan Johnson.

At that time, Marlborough, New Zealand was a place of discovery and courage, it was the Johnson's pioneering spirit that led them to establish the first vineyard plantings in the Waihopai Valley, despite the land being considered too hard, dry, and unfertile for wine.
Initially, the winery sold its grapes to Corbans Wines before establishing its own label 'Johnson Estate' in 1997. Later in 2000, the Spy Valley label became the flagship brand, with the first official vintage under the Spy Valley name taking place at a nearby winery.

In 2003, the construction of Spy Valley winery was completed and was officially opened by the Rt. Hon. Sir Michael Hardie Boys G.N.Z.M. on December 6. An impressive build that later went on to win the NZIA Resene NZ Award for Architecture in the commercial/industrial category in 2006.

Spy Valley has since flourished, growing seven varietals, including Sauvignon Blanc, Riesling, Chardonnay, Pinot Gris, Gewürztraminer, Pinot Noir, and Syrah, and exporting to over 35 countries around the world.
The winery's commitment to the land and to the people who tend it is reflected in its strong focus on sustainability, ensuring its guardianship of the land for generations to come. Spy Valley's longstanding viticulturist Adam McCone believes that "Spy Valley's commitment to quality and sustainability has played a huge part in its success. I feel honored to be a part of Spy Valley's story and look forward to what the next 30 years will bring."

The name Spy Valley was originally derived from the presence of an international satellite base located just down the road from the estate - Marlborough's very own 'spy base'. The winery has always had fun with the 'spy' theme, incorporating morse code with hidden messages on their bottles and even discreetly incorporating it into the architecture of the building.

Over the years, Spy Valley has won numerous awards, trophies, and accolades, beginning with its first ever gold medal at the 2002 London International Wines and Spirits Competition for its 2002 Gewürztraminer. The winery went on to be named the New Zealand Wine Producer of the year at The International Wine and Spirits Competition not just once, but twice in its 30-year history, and has most recently won two gold medals at the 2023 Global Pinot Noir Masters for its ENVOY Outpost Vineyard Pinot Noir 2016 and ENVOY Johnson Vineyard Pinot Noir 2017.

In 2001 Spy Valley had the honour of serving its Sauvignon Blanc at St. James's Palace for the World Fellowship 15th Anniversary Dinner for The Duke of Edinburgh's Awards where it was tasted by Prince Philip.

In 2007 Spy Valley created a fun 007 Vintage, dropping the '2' from 2007 to create an eye-catching Spy Valley 007 label for all 2007 wines made. Sir Roger Moore was later served Spy Valley wine (007 vintage), and signed a handful of 007 vintage magnums that can still be found at the winery today.

Over the past 30 years, Spy Valley has become renowned for its award-winning wines, with a reputation for excellence that continues to grow. Its commitment to quality is evident in the careful cultivation of each grape variety, and the dedication of the winemakers in crafting exceptional wines that reflect the unique Marlborough terroir. "The perfect combination of vibrant flavour, impressive aroma, distinctive fruit character, and balanced acidity that comes from a perfect synergy of climate and soil", says Spy Valley Chief Winemaker Wendy Stuckey.

"From our humble beginnings to where we are today, it's been an incredible journey. We are grateful for the support of our team, our partners, and our customers, and we look forward to what the future holds" says Amanda Johnson, Spy Valley Managing Director and daughter of Bryan and Jan.

As Spy Valley celebrates its 30-year anniversary, the winery is marking the occasion by making its first ever Rosé Méthode Traditionnelle, a sparkling wine that pays tribute to its three decades of vineyards and winemaking expertise. The winery plans to release this new sparkling wine in 2024, and the entire team is eagerly anticipating the opportunity to share this exciting addition to their lineup with wine lovers around the world!

"We believe that great wine starts in the vineyard. We are very fortunate with our vineyard locations and terroir, coupled with the expertise of our seasoned viticulture team. It has allowed us to create a range of exceptional wines that capture the unique time and place of each harvest. We are excited to continue to innovate and push the boundaries of winemaking in the years to come" says Wendy Stuckey.

With a focus on nurturing the land and cultivating exceptional wines, Spy Valley is a legacy worth celebrating. "As we look ahead to the next 30 years, we do so with excitement and anticipation, and with a commitment to excellence in winemaking and a dedication to sustainability", says Amanda Johnson.

In conclusion, Spy Valley Wines is a legacy worth growing and a story worth sharing. The Johnson family's passion and dedication have nurtured the land and the vines to create wines that reflect the best of New Zealand's winemaking traditions. Here's to another 30 years and beyond!